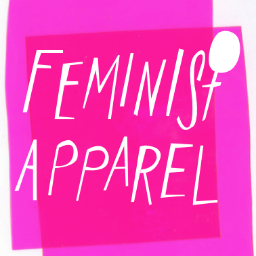 While browsing my Twitter feed a few weeks ago, I was introduced to a clothing brand going by the name of 'Feminist Apparel'. Attached to the tweet in question was a quirky image of a princess, and boldly accompanying it were the words "DON'T SAVE ME". Absolutely intrigued and of course, a feminist myself, I naturally flocked to have a peek at who Feminist Apparel was, and thus became acquainted with the first online feminist clothing store.
Founded by Alan Javier Martofel in December 2013, Feminist Apparel is currently based in Philadelphia, USA. With my interest piqued, I wanted to know more about the store and was lucky enough to ask Alan a few questions, which follow below:
Whose idea was it to get Feminist Apparel started, and how did you put the plan into action?
The idea for Feminist Apparel came to me while I was in between takes of a mini-documentary I was trying to produce about rape and rape culture in American college campuses. I thought of feminist t-shirts as a way of raising some funds for the project, and when I saw that there wasn't a website dedicated to selling just that, the proverbial lightbulb went off.
Who designs the t-shirts and is behind the creative process?
The designs on the site so far have been a collaboration between my brother and I. He has the technical design skills and I give him the ideas for images and slogans that I want to see on a shirt.
If you could describe the Feminist Apparel clothing in 5 words, what comes to mind?
Clothing that makes an impact.
What are your main aims?
Our mission is two-pronged:
1) One of the largest hindrances to women-focused non-profits is the lack of funding. They don't receive nearly as much as environment-focused or animal-focused non-profits. That's why it was important for us to team up with the charity 'Women's Way', which has been around since 1977 and does an incredible job at finding smaller non-profits in the Philadelphia area and lending them a helping hand.
2) The second part of the mission is why we remain a social for-profit instead of becoming a non-profit ourselves. Having a feminist for-profit company in the open marketplace means that we need to advertise as much as any other company in order to stay competitive. However, whereas most other mainstream companies put out advertising that highly underrepresents minorities, objectifies women and tries to make young girls feel like shit in order to sell to them, we plan on having billboards that call those companies out on their crap. We want to be in subways, on the side of buses, in our local print media and establishments, and eventually on television, promoting the ideals of intersectional feminism, which I believe lead to a better and healthier life.
How much money have you raised for Women's Way so far, and how is Feminist Apparel progressing?

Since we're only 3 months into this project, our stats aren't the most consistent yet. We've sold about 500 shirts at this point and we're already very close to turning a profit, which is pretty incredible and quite the testament to the unity and support base within the feminist movement. Most companies don't see a profit for the first 3-5 years (source: http://www.entrepreneurideadads.com/2011/03/how-long-does-it-take-to-become-profitable/). We're on pace to becoming profitable in the next 2-3 months.
You're the first online feminist store. What effect and/or response have you had so far?
Honestly, its been incredible how overwhelmingly positive the response has been so far. We opened in the 2nd week of December and in the 3rd week of December, we were featured on Everyday Feminism's Facebook page which at the time had 90,000 likes. I didn't know we were featured when it happened. I just saw a trove of order notifications coming into my e-mail, minute-by-minute. I knew someone big must have featured us, but I had no idea who and I was just laying on the floor of my dark room quietly freaking out. Louis CK did this great bit – I think it was on Jay Leno's show – about how he's only famous enough that the people who want to know about him, know about him, and that you don't start getting haters until you start popping up in front of people who haven't actively seeked you out. We're still on that level. We're staking our feet firmly in the waters of internet feminism for now, and I think that FeministApparel.com is a perfect pivot for anyone that reads Jezebel, Feministing, xoJane, or any of the wonderful authors/curators who write about the feminist perspective of current events.
Of course, your target audience is women, but how are you trying to get men involved in this cause?
Women are definitely our largest customer base, however, we believe in bell hooks' motto of feminism being for everybody, and so all of our designs come in a women's cut fashion and a unisex cut fashion, as well as youth cut for some of the designs – mostly the ones that don't say 'fuck' on them. Our shirts on the site range from XS-3XL, and we can accomodate up to 5XL. YOU get body positivity and YOU get body positivity, EVERYBODY GETS BODY POSITIVITY!!! (http://www.oprah.com/oprahshow/Oprahs-Entire-Audience-Are-Surprised-with-New-Cars-Video)
What t-shirts are especially popular amongst your customers?

"RIOTS NOT DIETS" sells pretty great, "Don't Rape" is popular, and "Feminist As Fuck" too.
What is your favourite item from the store?
My favorite item from the store is the Gloria Steinem "We Shall Overcome" t-shirt. She's a model for how to leverage your own personal privilege into social justice for all.
 Any parting words? What message do you wish to give your fellow feminists in general but also, about Feminist Apparel?
Fellow feminists: You are all beautiful. Non-feminists: You are also beautiful. Come on our site, learn about feminism and you will start having a happier and healthier mentality and lifestyle.
In my view, Feminist Apparel has emerged at a time when women – and specifically feminists – all around the world are in dire need of it. To have something as simple as an online clothing store providing full-fledged feminists – or even those interested in feminism – a chance to express themselves and their independence is still something we need today.
Considering that such clothing isn't already available, Feminist Apparel have found and created another way for feminists to unite and express themselves while helping to raise money for local charity Women's Way. Amidst all the news we are constantly exposed to regarding the sexual exploitation of women and the harrowing troubles still faced by many oppressed females today, the emergence of Feminist Apparel indicates that feminism remains pervasive and important in today's society.
A massive thank you to Alan for firstly, taking the time to answer my questions but secondly, for founding Feminist Apparel, which is seemingly on its way to success.
You can follow Feminist Apparel on Twitter [@FeministApparel], 'like' their Facebook page [Feminist Apparel] and of course, visit their website to simply have a look or order yourself a t-shirt: http://www.feministapparel.com.
I better start saving up.